2010 National Council Meeting
PAMANA held its 2010 national council meeting on March 6 & 7 in Buenavista, Bohol. The meeting focused on planned 2010-2011 activities, including the anticipated implementation of an enhanced local level project, and resulted in some important key decisions being made. Leaders arrived at a consensus agreement that PAMANA should focus on local governance opportunities relating to Marine Protected Areas (MPAs), and providing assistance to local chapter members particularly in implementing plans based on their identified needs. This is not to ignore the fact that waters are interconnected and therefore the local plans have to be linked to their neighbouring communities to achieve a more successful management of their community-based marine sanctuaries and seas. Among the major activities will be strengthening of some weak member organizations and facilitating the planning and implementation of locally-identified projects of member sites, ensuring communication among networks and the monitoring and evaluation of the member organizations and their marine sanctuaries. There was a realization during the meeting that monitoring and evaluation (M&E) initiatives on their marine sanctuaries were undertaken by external agencies or institutions and the results are not accessible for them to be translated to support plans and actions. Building off of the success of conducting their own comprehensive member and community survey (available NOW on this website); officers expressed the desire for members to be able to conduct monitoring and evaluation themselves that encompasses not only the ecological or biological aspects but also the awareness, livelihood and other socio-economic and cultural aspects. The results should be accessible for members to use in their advocacies, policy recommendations and to seek support. They will also be responsible for the proper feedback of the results to their constituents. Funding will be sought to carry out the priority activities for 2010-2011.
The meeting was funded by the Tom Epplett Foundation.
Illana Bay, Mindanao chapter leader Artemio Manginsay shares his experience on how to gain support of the local government for his MPA, while PAMANA President Fernando Tiburcio looks on.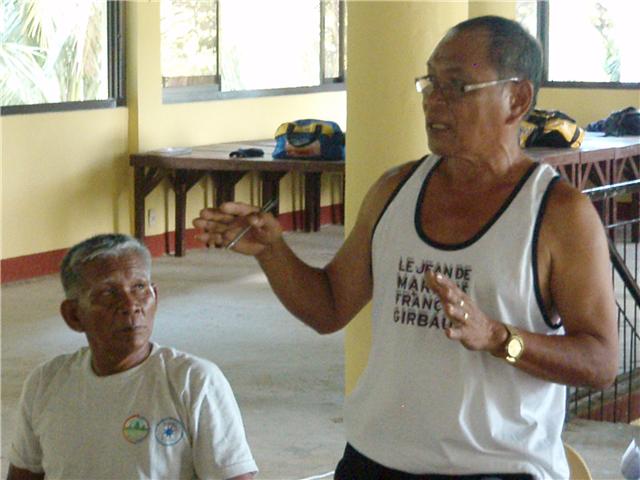 Left-to-right: Romulo Villanueva (Danao Bay chapter leader), Benjamin Dellosa (Lanuza Bay chapter leader) and Gregorio Sharon (PAMANA Vice President and Ragay Gulf chapter leader) participate in intense discussion.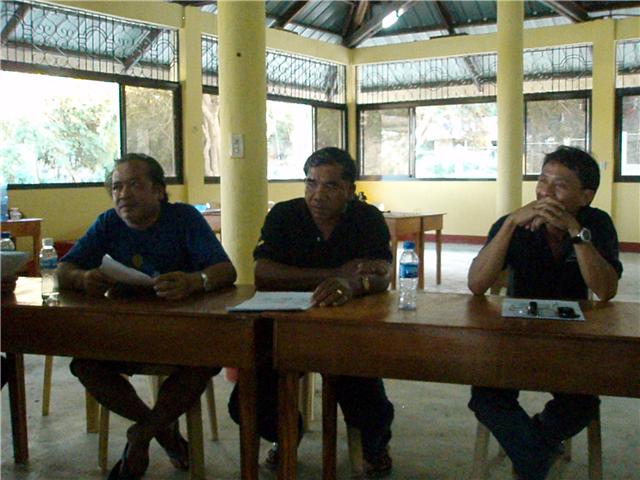 PAMANA membership chair Virgilio Garay (far left) relates his experience doing the PAMANA survey while Eugenio Mula (Danajon Bank chapter leader) and Mariano Caduyag (Mindanao Sea chapter leader) look on.